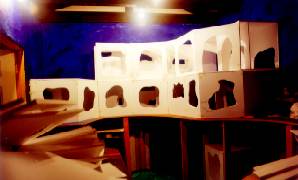 Work has begun on Spore Mines of SlimeWorld. This ambitious project has nothing less than the complete reconstruction of the preMiocene Spore Mines in Modern SlimeWorld. Current project manager G. Nunan estimates completion of the project sometime in the mid to late 22nd century. "That's if everything goes according to plan, I don't know why things should suddenly start going according to plan, but if they should we'll be done some time in the afore-approximated time frame."

When asked how he felt about the preliminary phenomenal construction Nunan replied, "Welp, as you may not already know we expect to build the phenomenal model over the course of the next fifteen years in eight sections. After each section is completed it will be added into the growing assemblage. Only after completion of all eight segments will we blow the whole thing up with firecrakers and plastic army guys just prior to beginning work on the nonphenomenal construction. The first construction is just a banishing and we don't actually expect to need firecrakers and little green plastic army guys to blow that one up. The incoming meteorites should handle this without the unnecessary expense for M80s."

Q: General Nunan we were led to believe the final goal of the Spore Mines would be a fully functional phenomenal model.

A: Yes, I acknowledge that you've been led to believe many things that have only an accidental association with the truth. However, in this one case, you are mostly correct. After the banishing of the faux-phenomenal model the nonphenomenal working blue lines will be constructed over which the final phenomenal form will be cast.

Q: General Nunan I'd like to return to an earlier point. Can you please explain further about the firecrakers?

The answer to this and other questions will be addressed in our next installment on the continuing saga of "The Spore Mines of SlimeWorld."