Workshop - 03 Schedule
Saturday
9:00-10:00 Opening Address -- E.J Gold / Claude Needham
10:00-11:00 Objective Theater by Robbert Trice (a.k.a. Archangel Gabriel)

--The Creation Story Verbatim

11:00p.m.-12:00p.m. -- "Invocational Writing Circle" Iven Lourie & Nancy Burns
12:00p.m.-1:00p.m. -- Absolute Art -- Della Heywood & The GVGG
1:00p.m.-2:00p.m. --The Bardo of Dream -- Meg Foard
2:00p.m.-3:00p.m. -- The Art of Surrender: Becoming the Instrument-- Jimmi Accardi
3:00p.m.-4:00p.m -- Prayer Absolute -- Julia Glasse
4:00p.m-5:00p.m. -- Easter Resurrection Medicine Wheel -- Marta Jones & Dru Kristel
5:00p.m-6:00p.m. -- Open Forum -- Bring your comments & questions.
6:00p.m-7:00p.m. -- Auction Walkthrough and Preview -- The HEI Group
7:00p.m.-10:00p.m. -- Easter Auction

The Wonderful, Fabulous HEI ART AUCTION David Franco, Linda Corriveau & Nancy Jean Burns

10:00p.m.-11:00p.m. -- Morris' Comedy Club -- Rose Gander
11:00p.m.-8:00a.m. -- "Gaming with Gorebag"

The Whole Gang will Quake until dawn. Special instructions await those with the eyes to see and ears to hear.
Sunday
8:00a.m.-10:00a.m. -- G.O.D.D.TM is Good G.O.D.D.TM is Great
10:00a.m.-11:00a.m. -- Closing Address -- Robbert Trice
To sign up for the On-Line Bardo Workshop and to register for the Auction e-mail canteen@oro.net, or call 530-272-0180, or fax 530-272-0184 A $25.00 donation to the Institute is suggested for the entire workshop.  visa, mastercard, american express and checks are all accepted. It is always greatly appreciated when donations reach the Institute before events takes place.

Thanks again, see you on the 11th!



---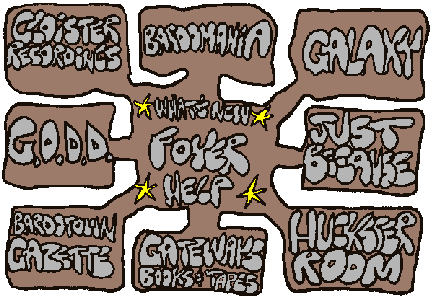 &copy Copyright 1998 Slimeworld -- All rights reserved --
---