THURSDAY, NOVEMBER 14, 1998
Workshop Schedule Change
A slight change in schedule for the online workshop. The entire workshop will be taking place on Saturday November 14th from 7:00 a.m. until midnight. The theme is "Visions in the Stone".
WEDNESDAY, OCTOBER 7, 1998
Beauty is Only One Pixel Deep.
October 10th and 11th "Beauty is Only One Pixel Deep but Reality Goes Right to the Bone" Online Workshop with very special guest,  E.J. Gold. (a.k.a Gorebag). Stay posted for more detailed  information.
WEDNESDAY, AUGUST 26, 1998
In case you haven't seen it.
There's are reasonably complete listing of online workshops and activities posted at http://www.slimeworld.org/online.html. Send your friends here if you are looking for a quick and easy way to let them know what's available at Slimeworld in the nature of online activities.
SATURDAY, AUGUST 22, 1998
September 12th Workshop
The next On Line Experimental Bardo Workshop, September 12th and 13th, is focused around the teaching put forth in the American Book of the Dead. This year marks the silver anniversary of the ABD. 25 years in print! There will be a special intensive taking place in the G.O.D.D portion of this workshop, Sunday 8:a.m.-10:p.m. All phenomena is illusion. Neither attracted nor repelled, Not making any sudden moves, My habits will carry me through.
THURSDAY, AUGUST 13, 1998
OnLine Workshop Brochure
Just to keep everyone up to date, we have begun to receive our first round of inquiries from folks in response to the Workshop Brochure mailing. Why heck, we've even had to implement new office procedures to track all the enquiries.
MONDAY, JULY 20, 1998
OnLine Workshop with EJ
The online workshop with E.J. Gold will take place sometime during the 24+ hour Experimental On-line Bardo Workshop. That is October  10th and 11th. Please let us know if you plan to attend, if you haven't already.  The workshop will take place in GODD and for those of you who have  not yet been in GODD, there is some preparation that needs to take  place.
SUNDAY, JULY 19, 1998
Email Discussion List Created for PWOS
We are experimenting in web services. This is one of the more recent. Join in if you'd like and help us find out what may lie in this direction.
SATURDAY, JULY 18, 1998
Get Me Down From Here
Jimmi was asked to paint a canvas for this upcoming auction, something that would directly relate to the workshop theme,"The  Hidden Work". He came up with the title "Get Me Down From Here" for the painting which is also the title of a song he wrote while he was still in New York. It has been perfomed by the PVTs on one of the Cloister Recordings video tapes starring your favorite and mine...Here are the lyrics to that song:
GET ME DOWN FROM HERE
Copyright (C) 1989 Jimmi Accardi.c
Well I've been waiting here for a long long time
You know I can't hold out much longer
I wouldn't dream of leaving if I had the chance
But now I ain't getting any stronger
I know you hear me calling but you turn away
And I understand your situation
That's why I hope and pray that soon will come a day
When you'll alleviate my elevation

Get me down from here
Get me down from here
Get me down down down

It's neither day or night; I can't turn off the light
I may be stuck in this room forever
There ain't no telling time in this state of mine
I better quick come up with something clever
If I could get below, even though I know
There really isn't anybody down there
Then maybe I can be the one who will help me
When I wake up back here with what I've found there

Get me down from here
Get me down from here
Get me down down down
This song was written in 1989. The words have to do with the problem we were referring to in the last on-line workshop. It might be useful in helping to understand The Situation a little better. 
See ya soon
Jimmi
FRIDAY, JULY 15, 1998
BardoTown Gazette ReOpens
The BardoTown Gazette has been revamped and is newly in cyber-print. With a much more intuitive navigation system you are sure to find the fun bits.
WEDNESDAY, JULY 15, 1998
On-Line Workshop
The next on line workshop will be held August 8th and 9th. The theme is The Hidden Work.
It was a hot nite at the SmogOps Canteen. While Gorebag bluelines yet more levels of the the Bardo, Jimmi and friends from around the world are in the recording studio hearing the latest tunes from Accardi/Gold. Out in the main room a ping pong tournament persists and Tom X creates acrylics on canvas. Across the room quake is beinglearned and played and adjacent to that a wonderous display of art is being shown to the freshly arrived visitors.
MONDAY, JUNE 29, 1998
On-Line Workshop
The next On-line 24 Hour+ Experimental Bardo Workshop will take place on July 11th and 12th. The theme of the workshop is "Practical Work on Self" Check out the "all new" Canteen workshop pages for more on this. 
August 28th is the launching date for the first of a series of "In  Your Face Workshops" keep watching for details...here and in your  mail boxes.
FRIDAY, JUNE 26, 1998
Great news gyz!
There will be an on-line workshop with E.J. "Beauty Is Only One Pixel Deep But Reality Goes Right To The Bone" is the title. It will take place in GODD.  G & G Enterprises are currently creating chat orbs now! There will be classified adds placed in all the usually magazines and a HUGE mailing to let folks know about it.  
WEDNESDAY, MAY 13, 1998
Next Experimental On-Line Bardo Workshop
The next Experimental On-Line Bardo Workshop is scheduled for June 13th and 14th. Stay tuned to the Canteen News pages for info and  updates. One hint - you could start re-reading "The Human Biological Machine as a Transformational Apparatus" by E. J. Gold SMOGOPS Canteen canteen@oro.net
THURSDAY, MAY 7, 1998
WorkShop 4
The fourth 24 hour experimental on-line bardo workshop is taking  place this week-end, May 9th and 10th. The group will dive deep into the deep space of the Great Mother and emerge, hopefully with a better understanding of what that means or at least be armed with some potent questions SMOGOPS Canteen canteen@oro.net
FRIDAY, APRIL 17, 1998
Angel of Gratitude Revisited
Below we are reposting the poem by Iven Lourie inspired by the sculpture "Angel of Gratitude" -- soon to be in the Toronto Show, My Other Self. We are reposting it alongside an image of the sculpture.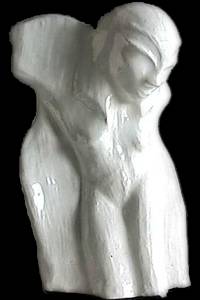 Angel of Gratitude
Not like Rilke's angels of gnosis and terrible comprehension nor a simile to sword-bearing archangels princes of flame or darkness this angel is winged but gentle
It guards the doorway of the heart assuring with a smile that beings continue to remember the myriad small things each one has received from others-
that glass of water, a touch on the wrist, directions to the vintage clothes store words of encouragement after a death in the family
This angel spreads its wings to protect the child sleeping for the first time in a new house to shield the tears of the mother from the eyes of those who live by devious acts
This angel hovers over bread and cheese new shoes fresh candles on the dinner table Yet there is that about this angel which admits no compromise It has its own fierce persistence its endless vigil of clarity
-Iven Lourie
TUESDAY, APRIL 14, 1998
3rd Workshop Complete

SATURDAY, MARCH 14, 1998
Workshop Happening Today
Truck on over to the Workshops Index page to check out what's on the agenda.
WEDNESDAY, MARCH 11, 1998
"My Other Self" Art Show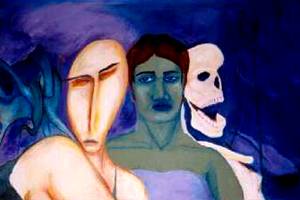 Rose Ortiz's Entry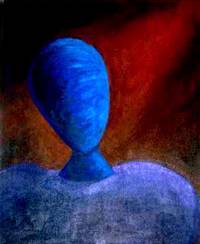 Fred Schill's Entry
SUNDAY, MARCH 8, 1998
Final Schedule for Workshop Posted.
The final schedule for the March On-Line Workshop has been posted. Please refer to Workshop 2 Schedule for more information.
FRIDAY, MARCH 6, 1998
GVGG Art Show Postcard Image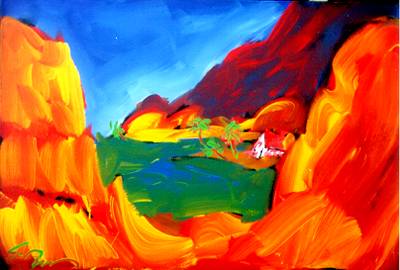 Here we have the image used on the announcement card for The Grass Valley Graphics Group artists opening in Santa Monica, CA at Mad River Post in the Frank Gehry complex at 2415 Main Street. This piece is an E.J.Gold canvas -- part of what is referred to as the South Seas series.

THURSDAY, MARCH 5, 1998
GVGG Art Show Opens
The Grass Valley Graphics Group artists are opening yet another show in Santa Monica, CA at Mad River Post in the Frank Gehry complex at 2415 Main Street. The Artists' Reception is Thursday, March 12, from 7-9pm. The show is sponsored and curated by artist and show curator Nancy Sadler of Sadler Fine Arts. The show that features Recent Paintings and Sculptures of the Grass Valley Artists includes twenty recent canvases from E.J. Gold's South Seas series, pastels and monoprints from Dr. Claude Needham, portraits on paper by Jimmi Accardi, sumie and abstract works by Aviko, over twelve watercolors and monoprints by Stephanie Boyd, ( including her "One Hundred Heads of Christ" series), assemblage sculpture by Bill DeGroot, canvases from Oz Fritz, Della Heywood and Douglass-Truth and mixed media works by Menlo Macfarlane and Aram Larsen. The show, when it opened at Mad River Post in San Francisco in November included ceramic bag vases by R.C. Trice and ceramics from E.J. Gold's Earthenworks, as well as glass sculpture by Mark Einert, bronze sculpture by Yanesh, and mobiles by David Christie. The Santa Monica exhibition will run through July 12th.
TUESDAY, MARCH 3, 1998
THE CANTEEN IS A BUSY PLACE
BardoTown ( the HO Scale version) has moved back into the Canteen, its former home. Work in continuing on this fifty year project to create a full working model of BardoTown -- the Canteen's version of a rather elaborate sand painting.
Just on the otherside of the closed door and flashing recording sign Oz is busy engineering the Samadhi Tanks (everything you have always wanted to know) Instruction tapes.
With the upcoming art show art show in Toronto, at the Foundation for the Study of Objective Art called "My Other Self" the Grass Valley Graphics Group artists are running around with last minute tasks. This show should be quite interesting for the little we've snuck a peek at.
GODD alpha testing is proceeding night after night. Current game being subjected to alpha test is "Hot Night In Hell". Beta testing of Zenn has begun. Zip on over there if you are interested in helping with beta test.
SUNDAY, MARCH 1, 1998
A PARTICIPANT WRITES IN
being in that workshop space - albeit intermittently - felt like through the presence of such a large number of beings geographically spread across the planet but essentially together with their attention something new and real is about to formate. i will be delighted to participate again, next time, as my time allows, and again, i cannot express sufficiently my gratitude towards the excellent job you are doing in setting up and maintaining this space. see you - also "geographically" - very soon, yours sincerely, akhora and family
WEDNESDAY, FEBRUARY 25, 1998
RESPONSE FROM LAST MONTH'S WORKSHOP
The Canteen had the pleasure of hosting an experimental online workshop last month. Here are some news blips from attendees giving their response to the workshop. FYI these are extracts from the recorded log. Which may explain the format.
Guest 92: the only thing
Guest 92: i can say now
Guest 92: is that whenever i felt
Guest 92: far away
Guest 92: and alone and without guideance
Guest 92: the institute
Guest 92: showed up
Guest 92: giving me the certainty
Guest 92: that i have friends
Guest 92: brothers and sisters
Guest 92: sharing a vision
Guest 92: and willing to help
Guest 92: the Creator do his Work
Guest 92: i really love u guys thanx

mo: I am grateful
mo: for having been able
mo: to be a part of this.
mo: It was invigorating
mo: to connect with everyone
mo: on so many different levels.
mo: thnx

jan: i've been here for a lot of the workshop
jan: i like being here
jan: i wish we could stay

Guest 91: my first on-line experience.Terrific, makes my heart burn. To visit the community has changed everything. "Live with it" now all the time....
Guest 91: Thanks with all my heart for all the friendship, kindness, "food", help - and joy! and for the big job the cantten has done. THANKS!

Blue: The institue has been here
Blue: Only I have not
Blue: Somehow
Blue: the necessity
Blue: was strong enough now for me
Blue: to come now to stay
Blue: This workshop has helped strengthen that resolve

kd: While my direct participation was minimal due to being a mom, I still felt plugged in to the group as I went about my  day and I look forward to reading the logs. End.

tm: To me, this is a home coming event. The format seems to tm: transmit the teaching.
tm: thank you

rct: for me this is a real circle of work and i wish for it ot continue
rct: next month
rct: and next month
rct: etc.etc
rct: adinfinitum
Thanks to Julia (modern day scribe) for maintaining the log

TUESDAY, FEBRUARY 24, 1998
TENTATIVE SCHEDULE FOR NEXT WORKSHOP
Times, Titles and Workshops can still be changed, please let me know before Saturday if possible.

Saturday
10:00-11:00 Opening Address -- E.J Gold / Claude Needham

11:00-12:00 Aims and Goals -- Robbert Trice
12:00-1:00 A Shared Adventure in GODD -- Claude Needham & Maureen Nelly
1:00-2:00 Invocational Writing Circle -- Iven Lourie
2:00-3:00 Essence and Perception -- Jimmi Accardi
3:00-4:00 Painting the Real World -- Della Heywood
4:00-5:00 Medicine Wheel -- Marta Jones & Dru Kristel
5:30-7:00 For Your Viewing Pleasure -- preview of the auction selections
7:00-10:00 The Auction -- David Franco et al.
10:00-11:00 Morris' Comedy Club -- Rose Gander
11:00-8:am Gaming with Gorebag
Sunday
8:00-9:00 ?????????
9:00-10:00 ????????
10:00-11:00 EuroChat-Chatting Around the World -- David Franco
As you can see the schedule is still in its formative stages. Stay tuned for updates.

MONDAY, FEBRUARY 23, 1998
A LETTER FROM A FAR
This email came to us from a fellow voyager who happens to be in Italy at the moment. Ah, the wonders of the internet that we can be brought so much close.

Dear dead poets,

The following came out of my mind just during the first couple of hours of the Valentine day (14-15 February) convention, seeing the presence of so many old friends i had known in the past.

It took me 2.5 years to actually begin to try to do something (in which case it resemble a sort of seminars), since the 1995 Convention, which happened in Grass Valley-35 acres, in which it was suggested to students to form an outer ring, according to which we would have been in touch with each other in our hometown locations (Fred, grant, mo, Canadians... many of us were there). it was strongly suggested that we keep in touch as a outer ring, as a functioning work web by itself, somehow relatively independent from the Institute.

after that i heard news of people doing zen basics, abd courses, art shows and more, in usa and Canada (mostly activities which were suggested in the said convention). on the other hand, i had not been able to do nothing relevant outwardly, except maintaining communication with fred, maureen etc. then it came the 'on line work', for me in the spring '97, with quake, palace, web sites and all. from then on I've had a kick in the ass to stop postponing any commitment that 'could' be done, if only someone wanted to do it; just because i couldn't really say anymore to myself: 'I'm alone....what can i do?...., and in fact through the internet I've built the feeling of being in a group, circle, with the relative support proper of the group to provide.

Now that the Institute, in the form of a few avatars on my computer, is finally able to provide, through the internet, direct advice and supervision to students in their activity (the euro chat, for example).... no one of that outer ring seems to do anything anymore. oh not any; i have info of the Bardo Training Center group of S.F. which seems very active, and in ways that look not carbon Copied, like i tried to do the zenbasics workshops in a form 'as given' by the institute. they're very creative, as i can see from their newsletter i regularly receive.

I'm sure there are many others more active than me, but.... where's the outer ring? the relationships between outer ring members went fine for a while, but i happened to not be able to stay in touch with anyone for more than a few weeks at most, then (I repeat, about 2 years ago)..... like the few meetings we had at fred's palace.

(Now, after 22 February eurochat...)

I see for myself, here and now, that voluntary evolution and waking-up comes forth, if ever, only as a consequence of putting myself in the position of HAVING NECESSITY to deal with a situation I've already created. So, i would give address to anyone who has a wish for evolution, to create a situation, a kind of job, which you have to deal with, in the only decent way; that is: with a waken-up machine. 

As the great Italian saint said: "I'm the one who put himself in TROUBLES with his own hands, and ENTER into the Labyrinth alone"

saluti a tutti
fabio pellegrini
aka io aka heruka